Rosy Cactus and Succulent Soil Mix
Regular price

Sale price

$17.00
Production Description

This potting mix keeps your cacti and succulents thriving in well-draining, loose soil to support roots that prefer to brief periods of moisture and lots of oxygen.

INCLUDES:
• Biochar supports drainage, aeration, and water retention
• Pumice + sand support drainage and aeration
• Beneficial fungi and bacteria support a healthy root system
• Pine Bark Fines support aeration, drainage, and structure
• Compost provides organic matter, nutrients, and drainage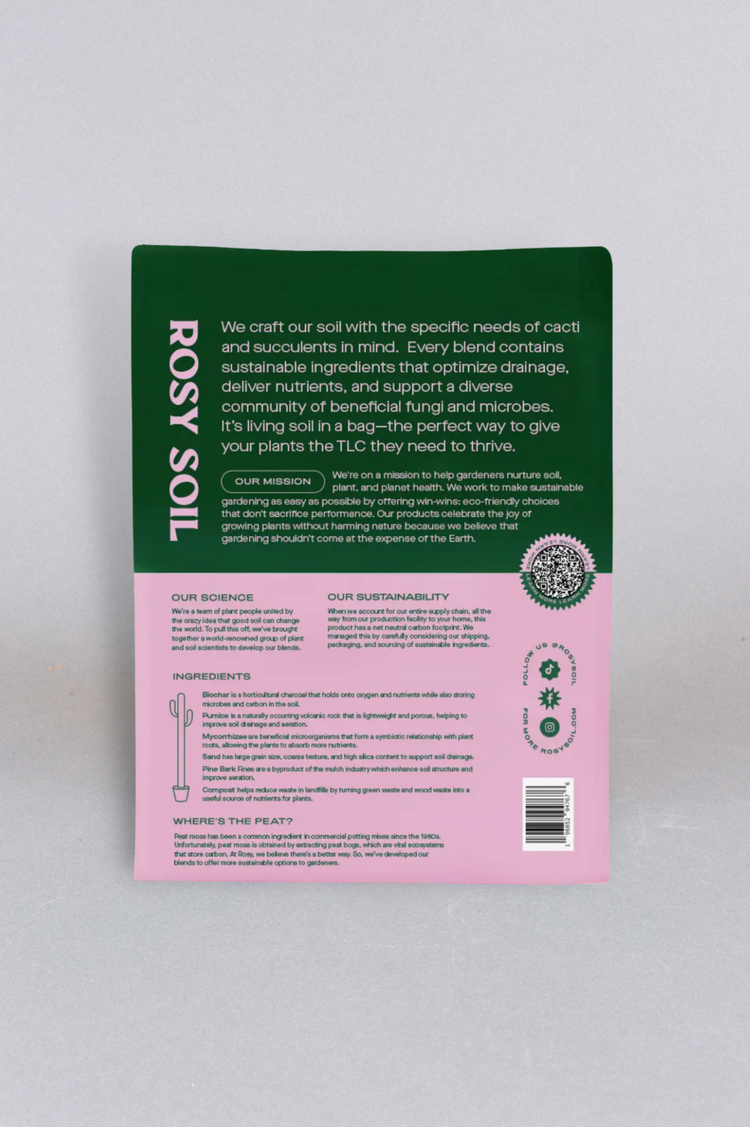 Avoid suffocating your cacti and succulents with dense, absorbent soil and provide a terrain that feels more like home. Mixed with sand, pumice, biochar, and healthy bacterium, your desert greenery will thrive in this soil made just for them.

FAQs
What's Included

• One 8-quart bag of Rosy Cactus and Succulent Soil Mix (pots about two to three 6-inch plants).

Recommended For

• Cacti and Succulent Plants
• Combining with other potting soil mixes to increase drainage
• Plants that have dealt with root rot or pest infestations
• Replacing old soil that holds water for too long
• Replacing the top few inches of old soil for a boost of freshness

How To Use

1. Choose an empty, clean planter
2. Fill the planter with about 2 inches of soil*
3. Remove as much dirt as possible from your plant's root ball
4. Gently place your plant into the planter, holding it upright in place
5. Fill the surrounding remaining space in your planter with soil. Soil should reach about the top inch of the planter.
6. Water generously to help the plant settle in.

*If your planter does not have a drainage hole, you can add 1-2 inches of pebbles at the base of your planter before you add the first 2 inches of soil. This offers built-in drainage.